Membership Benefits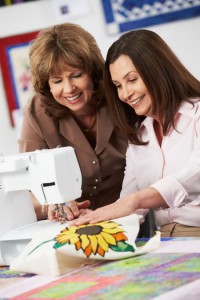 The American Sewing Guild is a membership organization that welcomes sewing enthusiasts of all skill levels and from many different walks of life. Chapters are located in cities all across the country and members meet monthly to learn new sewing skills, network with others who share an interest in sewing and participate in community service sewing projects.
Membership in the Guild gives you an opportunity to experience your love of any type of home sewing with others who share your interest.  Guild members can increase confidence, expand their sewing skills and take advantage of discounts available only to Guild members.
Some of the benefits of an American Sewing Guild membership are:
Monthly meetings
Special workshops and events
Where to get your sewing machine/serger serviced or repaired locally
Online Sewing Classes
Contests
Special offers from industry resources
Members-only national magazine and chapter newsletter
Annual conference
Sewing-related travel and tours
The Indianapolis ASG Chapter covers the central Indiana area.  The 25 neighborhood groups can be found as far east as Rushville, as far west as Crawfordsville, as far north as Lafayette and Muncie, and as far south as Seymour, Columbus and Martinsville.
We come from different skill levels and walks of life.  There is a neighborhood group in your area that enjoys the same love of sewing that you do.
Our goal is to learn from each other, network with others who share an interest in sewing and encourage everyone to try new techniques, enhance our skills and inspire creativity.  We welcome and support all styles of sewing.  You will always have a friend in the sewing community!
As a prospective member, you may attend 2 neighborhood group meetings before making your decision to join.  To read more about neighborhood group meeting locations and times, visit Neighborhood groups.
Come join us!
Click the button below to sign up online or print this document to mail in your registration.