Community Service
The Indianapolis Chapter of the American Sewing Guild supports many different service projects.  Community Service projects are completed at a chapter level and at a neighborhood group level.  Anyone can participate in any project.  The three major projects sponsored by the chapter are:
Christmas Stockings For Our Troops and military families overseas who have ties to Indiana
St. Vincent Seton Specialty Hospital Quilts
The March of Dimes Lovey program for preemies in isolettes
Join us and make someone's day with these Community Service Projects.  As neighborhood groups want to open their project to other members, we will post them on this site.  Each project is listed below.  Thank you to all of our members who give of themselves with these projects and many others. 
Christmas Stockings for the Troops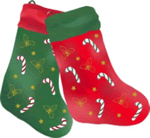 In 2019, the ASG Indianapolis Chapter sewed 3,050 stockings that were sent to our troops and military families with Indiana ties serving overseas.  As long as our troops are fighting for our freedom, we want to give a little taste of "Back Home in Indiana".  The stockings are given to the Hero Outreach group who fill the stockings with candy and goodies and then pay postage to mail the packages overseas.
This past year we were joined by the Family Career and Community Leaders of America (FCCLA) in our effort to create these stockings.  The FCCLA members are from many central Indiana high schools.  This is a good project for high school students.   Giving of their time and talents have been much appreciated.
The Christmas Stocking instructions and pattern can be found here:  Christmas Stocking
When your stockings are completed, contact our Community Service Coordinator at communityservice@indyasg.org to arrange pickup.
Caring Quilts for St. Vincent Seton Hospital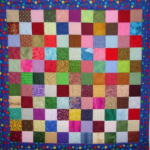 St. Vincent Seton Hospital provides comprehensive acute care for those who are potentially critically ill and requiring more specialized treatment and intensive nursing intervention than generally available within more traditional nursing home and sub-acute care programs.  Services include: ventilator and individualized weaning programs, complex infusion therapy, long-term wound care, chemotherapy, respiratory, physical, occupational, and speech therapies, surgery, radiology, dialysis, laboratory services, telemetry and hemodynamic monitoring to name a few.
As each person leaves the facility, they are given a quilt representing continued warmth and concern of their caregivers.  This is a gift that reminds the patient and their family of the care and love of those behind the quilt (St. V's staff and Indy ASG).  It is hoped that the quilt will provide comfort and peace as they approach the next phase of their journey.  Approximately 100 quilts are needed each year. The St. Vincent Seton quilt instructions can be found here:  St. Vincent Caring Quilts
In this photo, Faith Jones of Seton Hospital is shown accepting 39 quilts made in 2019 by ASG members.
When your quilt is completed, contact our Community Service Coordinator at communityservice@indyasg.org to arrange pickup.
March of Dimes "Lovey" Program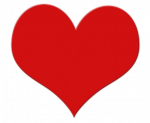 The March of Dimes NICU Family Support Program has asked the Indianapolis Chapter of American Sewing Guild to help provide comfort to babies that are in the neonatal intensive care unit (NICU).  The Women's Hospital houses the largest NICU in Indiana and has nearly 1,000 admissions annually.
Babies in the NICU can be as born prematurely as young as 23 weeks old gestation and as tiny as one pound.  Many new parents can't hold their newborn; they may only be able to touch them inside the isolette.  So much family emotion is present at the time these tiny babies come into the world.  The parents want to be by the side of their newborn, yet have to take care of the responsibilities at home and work.
The first senses that newborns have are touch and smell.  While the parents cannot be by the baby's side 24/7, we can help them provide a bit of themselves to the baby by creating small flannel hearts.  The small flannel hearts are given to the parents.  The parents can sleep with and live with the hearts for a short period of time infusing their scent.  The parents will then take the hearts to the NICU to be placed in the isolette with their baby.  Through the sense of smell, this will help to give the baby some security of their parent being nearby.  Each baby receives 2 hearts so that while one is being laundered and 're-scented', the other heart is in their isolette.  Over 2,000 Lovey's were donated in 2019. Lovey directions and patterns can be found here:  March of Dimes Lovey
In this March 2019 photo, March of Dimes employees Emily Collins and Lori Clark are shown accepting over 900 loveys donated by ASG for central Indiana neonatal units.
When your loveys are completed, contact our Community Service Coordinator at communityservice@indyasg.org to arrange pickup.
Neighborhood Group Community Projects
The Crawfordsville Neighborhood Group makes 'Honor Flight' bags for the veterans who make the day trip to Washington D.C.  The flights travel from the Purdue University Airport twice a year.  Each veteran receives a bag of goodies to make his or her trip a little more comfortable.  There are flights leaving from other parts of the state.  This may be a project you want to consider for your area.  For Honor Flight bag pattern and instructions, contact the Crawfordsville Neighborhood Group at Crawfordsville@indyasg.org
The Northside AM Neighborhood Group sewed under-arm pillows for mastectomy and lumpectomy patients. In the photo, Cindy Baker displays some of the 74 pillows donated to Franciscan Health Cancer Center in June 2019.
Do you have a project or pattern that your neighborhood group is doing and would like to add to our community service list? We would love to hear from you! Contact our Community Service Coordinator at communityservice@indyasg.org with information.